It was with anticipation that I was preparing for last weekend, which was the latest in the URC's (United Reformed Church) Youth Assemblies.  I last went to a youth assembly run by the URC in 2008 (so some time ago now!) back when it was known as FURY Assembly (that stands for the Fellowship of United Reformed Youth).  After visiting last time, I knew that there would be some people I had already met.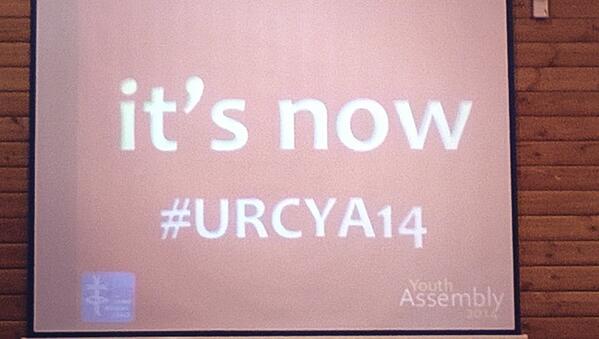 After arriving at Whitemoor Lakes (it's starting to feel like a second home!) I met one of my friends from the last time I was at a URC event.  Having signed in and put all my stuff down in my room, I started to talk to a few of the other people who were already there.  Having spotted someone who was the URC rep to 3Generate in 2010, we caught up over tea and then I started to talk to some more people.  It turns out that quite a few there were from the Wessex Synod, which is where I live. The URC is divided into 13 "synods", which are like our districts but bigger.   Wessex Synod covers all the way along the south coast from Portsmouth to Dorset, and as far north as Banbury in a kind of triangle-shape.  It also covers the Channel Islands.  It's number 9 on the map.
On Friday evening we were welcomed and ran through the introductions.  Worship was centred around Isaiah 9:4.  The theme of the evening was the journey between being lost and being found, with the keynote speaker (Stewart Cutler) talking about how we, like the lost sheep, might "nibble [ourselves] to lost-ness".
If you'd like to have a listen to the talks given by Stewart over the weekend, you can find them here.  We went into small groups to explore the issues surrounding the bible passage more before we went to the first workshop.  For me, this was about social justice.  It was led by Andrew Bradstock, who is a member of the URC branch of JPIT, the joint public issues team.  We looked at why social justice was important and what we thought the big issues were.  We also looked at whether Christians have, or should have, a different outlook on social justice from the rest of the world. After the workshop I went to listen to a talk about vocation.  It was interesting to hear about the opportunities available in the URC, many of which were to be found in a mission house in Amsterdam.  The Covenant Prayer said in Methodist Churches every year came to mind, and I shared that with a few people.  The text is:
'I am no longer my own but yours.
Put me to what you will,
rank me with whom you will;
put me to doing,
put me to suffering;
let me be employed for you,
or laid aside for you,
exalted for you,
or brought low for you;
let me be full,
let me be empty,
let me have all things,
let me have nothing:
I freely and wholeheartedly yield all things
to your pleasure and disposal.
And now, glorious and blessed God,
Father, Son and Holy Spirit,
you are mine and I am yours. So be it.
And the covenant now made on earth, let it be ratified in heaven.'
and you can find out more about it on the Methodist church website or by asking a minister.
Saturday started off at 08:00 with some worship, for which the theme was "All are welcome".  Breakfast was followed by a few words from our keynote speaker around the theme of Elbow's "Open arms".  We broke up into our small groups again to discuss Psalm 27:1-9.
We moved into workshops, and this time, it was all about "What's on your mind?"; it was a good look at the difference in perceptions between physical (usually positive thoughts) and mental (usually negative thoughts) health.  After a quick break, we had our last issue-based workshop.  I went to one entitled "God's Backpack", which was designed to give us some useful meditative and reflective techniques for our journey through life.  After lunch (best jacket potato I've had for a long time!) we had elections for the "Moderator Elect" (the equivalent of the Youth President Designate, so the one-in-waiting) where the people putting themselves forward spoke for about two minutes each on their visions for FURY.  There were other posts up for election too, and they spoke in a similar manner.  After the speeches, we had creative workshops.  Like a traditional Methodist, I went to the singing one.  It was lovely to have (at one point!) a three-part harmony going for "Oh Lord hear my prayer".  After a very enjoyable two hours we came back together to hear about different things going on around the country before the first business session.
URCYA votes using a consensus method. This means that voting is carried out in four stages.  The first stage is for information.  The motion (which is the thing being suggested) is explained by two people.  They give some background information and answer any questions that anyone has about it.  The second stage is that of a conversation.  Sometimes questions are given, and sometimes it's a free discussion.  After this, feedback from the smaller groups is given, and the third stage is entered.  This is the decision stage, where you're allowed to say what you feel about the motion.  The moderator (who is in charge of the meeting) will ask whether people feel that they would like to vote.  If you agree, you raise an orange card.  If you'd like more time to talk about the issue, then you raise a blue card.  If everyone is ready, then the voting can take place.  If you agree with the motion, then you raise an orange card, and if you disagree, then you raise a blue card.  It looks a bit like this:
If everyone shows an orange card, then the motion has been passed by consensus.  If there are some blue cards, then the people holding them are asked if they think that they've had their views heard.  If they say no, then they have the opportunity to speak.  If they say yes, then they're asked if they'll allow the motion to be the approved as what the Assembly thinks.  If they say yes, then the motion is still passed by consensus, but if they say no, then the motion is passed by agreement instead.  This is useful for when it comes to reporting back to the rest of the Church about what's happened.  If something is so important to young people that it's been passed by consensus, it's very powerful to be able to say that every young person at the Assembly thought that this was important.
Sessions where all this takes place are called business sessions.  We had these for the rest of the evening and then Sunday morning.  There were motions covering a range of subjects, from the continuation of a welfare team to interaction with the laws on same-sex marriage to talking about mental health and wellbeing.  It was a really good opportunity to hear about what other young Christians thought about these things.
After a heavy business session on Saturday evening, it was brilliant to be able to relax by enjoying comedy from Paul Kerensa.  He's written for "Not Going Out" and "Miranda", both of which I enjoy, so I hardly stopped laughing for the whole two hours!  Here's a quick clip of some of his stand-up, just for you lovely people to also enjoy: Paul Kerensa
There's an interview on the end of it too, which you might find interesting.
After a lovely sleep and more worship and business on the Sunday, we met in Synod groups.  As I said earlier (right at the beginning, if you need a recap!), I'm in Wessex Synod.  We gave our evaluations and feedbacks for the weekend, and then it was into the final worship!  Here, Matt Barkley was inaugurated as the new Moderator and welcomed by John Ellis, who is the Moderator of the URC.  Good luck for this year, Matt!
Follow the URC on twitter: @URC_FURY
the twitterfall from the event
and online on their website.  You can read more about the event here.